Outlets, Switches & Dimmers in San Jose, CA
Modernize Your Home's Safety with New GFI Outlets
Does your home still have old, standard electrical outlets? If so, the safety within your household may be at risk. At Dalcon Electric, we have helped homeowners throughout Santa Clara, San Mateo, San Jose, CA, and the surrounding communities with professional installations of a wide range of electrical systems and solutions, including replacing old, standard electrical outlets with new GFI outlets. GFI (ground fault interrupter) outlets are the ultimate solution for electrical safety. In fact, the National Electric Code requires GFI outlets to be placed in kitchens, bathrooms, garages, or any area where water may be present, as opposed to regular outlets. A GFI outlet has an essential built-in safety feature that can measure differences in power as small as three milliamps. As soon as the GFI outlet detects an energy imbalance, it will automatically shut off, making these life-saving devices a necessity. If you are ready to upgrade your home's electrical system with brand new GFI outlets and don't want to do it yourself, get in touch with us today.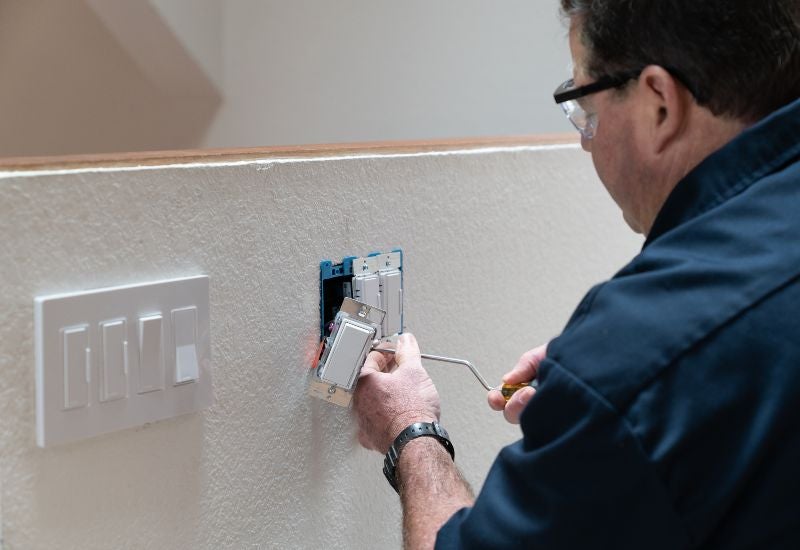 Add New Outlets and Access Power Where You Need It
If you need access to power in more places throughout your property, leave the electrical work to the professionals. Our expert electricians at Dalcon Electric are licensed and well-versed in providing customized electrical solutions and will safely install new outlets wherever you need them. Whether you're in need of a dedicated circuit for your garage, a bathroom outlet behind your toilet for a new bidet, an external outlet for your front or backyard, or a new outlet on a wall that doesn't currently have an electrical current, we can do it all with precision. From GFI receptacles to 240v outlets required for your heavier appliances – such as dryers, ovens, or even your electric vehicle – our team has the training and four decades' worth of industry insight to meet your exact needs.
Boost Control Over Lighting with a New Electrical Switch
Control your new lighting fixture, ceiling fan, or any other electrical device with ease with a new electrical switch installation from Dalcon Electric. We can recommend a new switch or set it up for you if you feel more comfortable with that. We have the services and state-of-the-art equipment you're looking for to implement a new switch exactly where you need it. As with any electrical project, installing a new electrical switch requires specialized training, and our professional electricians are capable of completing switch and new wiring installations with the utmost efficiency and precision. We'll add, move, or replace a switch in your desired location, whether it's to accompany new outdoor lighting, add more convenience to a room currently without an electrical switch, and much more. With our world-class solutions, it is easier and more affordable than ever to gain more control over your home's electrical fixtures.
Add Mood Lighting and Save Energy with Our New Dimmers
Is your home's LED lighting paired with a high-quality, LED-capable dimmer? A standard dimmer cannot be used with an LED light as you will never be able to dim the LED light either completely or not very well. LED lights need their own special electronic dimmer to have a fully functioning and dimming light. Our extensive inventory of modern dimmers will allow complete control over the brightness of your LED lighting, extending the life of your LED bulbs and saving you money on your energy bills in the long run. There are a variety of options to choose from, and we'll be happy to help recommend the right choice to best suit your needs. Add greater control to your lighting and improve your home's energy efficiency in one fell swoop with our complete line of LED-compatible dimmers.
Upgrade to Your Smart Home
Today's advancements in technology have generated nearly endless electrical capabilities beyond standard wall outlets, switches, and dimmers. Smart home devices integrated into households across the world rapidly continue to be on the rise, allowing homeowners to control their home's electrical appliances more efficiently even while away from their homes. Smart home devices also continue to improve, creating a vast number of applications from app-controlled LED lighting, thermostats, and home security systems to smart outlets that keep electrical devices on an automated schedule. Dalcon Electric offers a complete line of outlets, switches, and dimmers compatible with your smart home network, including Apple, Amazon, and Google-manufactured smart technology. Control all of your smart home devices and improve the convenience of your household with our advanced, smart home-compatible outlets, switches, and dimmers. Get in touch with us today to get started.