Outdoor Lighting in San Jose, CA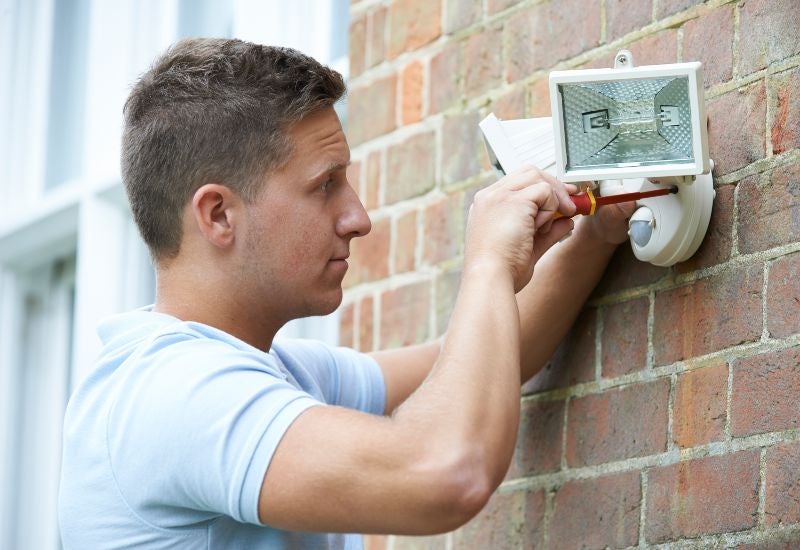 Enjoy Your Property with Landscape Lighting
Dalcon Electric provides outdoor lighting. Contact us today to learn more about our outdoor lighting services and installation.
Leading Provider of Outdoor Lighting Services
You've worked tirelessly to bring your landscaping to life with the most beautiful and suitable aesthetic for your home. Unfortunately, enjoying your hard work and excellent look stops when the sun goes down and you cannot see. We believe you should be able to enjoy your landscaping whenever you like, so we provide outdoor lighting services to keep your outdoor experience going day and night.
We provide your property and landscaping with outdoor lighting services to brighten your lawn at any time you please. Our services will keep your nighttime outdoor activities safe and comfortable.
Our team provides outdoor lights for the following landscaping features:
Outdoor Pathways: Traverse and enjoy your garden, patio, and other outdoor features at night safely.
Driveways: Pull out of your driveway safely or be welcomed home by beautiful and comfortable lighting.
Trees and Shrubs: You can enjoy the splendor of your trees, shrubs, and outdoor greenery throughout the night.
Pools: Outdoor lighting provides a beautiful radiance and shimmer to your pool and safely helps you enter and exit.
Fountains and Water Features: Put your elegant fountain or water feature on full display with complementary lighting.
Decks and Patios: You'll love nighttime outdoor get-togethers, rest, and leisure time with our landscaping lighting.
Outdoor Lighting Maintenance and Repair
The team at Dalcon Electric are certified experts in outdoor and landscape lighting. Our products are carefully curated and sourced from leading providers within the industry, ensuring you receive a top selection of choices. We offer our products in a wide range of styles and control options to customize an outdoor lighting solution best suited for you.
We provide the following services for your landscape lighting systems, so it thrives for years to come:
Installation: If you've completed a beautiful landscaping job but can't enjoy it during the evening and later hours, we're here to install your outdoor lighting systems properly. Whether you want light installation for a specific feature or your entire yard, our team will fulfill your needs.
Repair: We're trained, licensed, and certified to handle your outdoor lighting repairs safely and efficiently. We start by assessing your wiring, fixtures, transformers and other components to locate and diagnose the issue. We recommend repairs to restore your light system to its original function.
Replacement: Someday, your landscape lighting may deteriorate beyond repair and require a replacement. Our team provides partial and complete lighting replacements. Whether you need to replace a few burnt-out lights or your system needs a total overhaul, we'll service you and reinvigorate your lighting features.
Maintenance: Our team is equipped and advanced in providing routine maintenance. We can schedule regular maintenance check-ups to evaluate your lighting system's condition and determine any concerns or needed repairs. Maintenance is the best way to ensure your system is in working order.
Customization: We offer a wide range of products and lighting styles customized to fit your needs and desires. Enjoy the appropriate lighting for your pool, patio, driveway or garden and fall in love with the atmospheric custom colors and hues. We'll guide you through our selection to help you pick the perfect lighting.
Landscape Lighting Benefits
What's the point of installing your immaculate landscaping if you can't see and enjoy it anytime you want? Landscape lights offer many benefits to maximize your beautiful landscape and lawn work.
Outdoor lights offer more than aesthetic and style benefits. Landscape lighting will grace your yard or lawn with the following benefits:
Value: You've added immense value to your home with your landscaping work. Outdoor lighting will maximize your landscaping and boost its value. Landscape lighting is a desirable feature for many homebuyers. If you eventually put your home on the market, your outdoor landscape lighting will instantly enhance your home's curb appeal and market value.
Security: Outdoor lighting adds extra layers of protection to your property. Navigating your landscaping in the dead of night can be highly dangerous due to walking blind and unseen steps, cracks, and ways to trip. Outdoor lighting allows you to see your landscaping and tread your grounds safely. Landscape lights also deter intruders from entering your property.
Convenience: The outdoor lighting industry has seen many developments and technological improvements. Cutting-edge remote and electronic controlling give you the power to control your lighting at the click of a button. Turn one or all of your lights off instantly, or adjust brightness and colors to fit your specific mood and preferred atmosphere anytime.
Why Choose Us
Most of our clients are repeat customers who can attest to our quality, and they come back for every follow-up service. Our licensed, bonded and insured team provides a free inspection for every job, ensuring problems are detected before we start. Our customer price approval allows you to solidify your quote before starting our work. We're on call 24/7 in case you need an emergency service. Feel free to contact us today!
Schedule an Appointment Today!
Our Service Area