About Us
Dalcon Electric, Serving the San Jose Area Since 1979
A Message From the Owner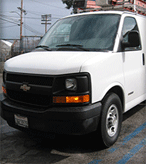 Dalcon Electric, Serving the San Jose Area
Hi, I'm Dave Lee, the owner of Dalcon Electric. I started doing electrical work in the San Jose area over 30 years ago. Then, in 1993, I started Dalcon Electric in San Jose to service the counties of Santa Clara, San Mateo, and Alameda. With over 30 years of experience in both residential and commercial work, I take pride in our expertise and professionalism. We always give you a fair price and can often recommend ways to save you money on your electrical job.
SuperService Award Winners in 2008 and 2009
Please take a look at our customer reviews. These were written by customers who were kind enough to take the time to review our work on Angie's List. Angie's List provides consumer information about electricians and other contractors. Based on the number of reviews which expressed satisfaction with both our quality and prices, Angie's List gave us Super Service Awards in both 2008 and 2009.
Addressing Your Electrical Needs AND Fair Prices
I love it when our customers comment in their reviews about our "fair prices," "reasonable prices," or mention "gave me a discount." At the same time, we pride ourselves on our expertise and professionalism. We listen to you and address your needs, doing the exact job you want. Over 70% of our business comes from repeat customers or from their friends and family. We've also earned an
A Rating with the local Better Business Bureau.
Residential Electrical Work
We work around your schedule and also provide 24/7 Emergency Service. We are prompt, protect your carpets and furniture, do the job right the first time, and clean up after ourselves. For your convenience, we accept Visa, Mastercard, and Amex Credit Cards. Please call us at (408) 565-8918 to discuss your job. Most often, you'll be able to speak with a live person right away.
Commercial Electrical Work
For years, a good deal of our work has been for businesses and general contractors. We're experienced at new construction, remodels, and service work for businesses. If you're interested, we offer Service Contracts which include 24/7 availability to handle any emergency that your business might have. Please ask us for commercial references.
Solar Panel Installations, Structure Cabling, Computer Networking
Our expertise includes electrical specialties on the cutting edge: Solar Panel installations as well as networking installations. If you need someone to set up the computer network in your home or business, call us. We're also experienced in "structure cabling," setting up the network through which you can control all the electronics in your home or business with your computer.
Give us a call at (408) 565-8918 if you have a question about the electrical in your home or business. We can answer your questions or discuss your job with you. I look forward to hearing from you.
Dave Lee, Owner
Dalcon Electric
Dalcon Electric, Providing Electrical Residential and Commercial Services
to San Jose and the Counties of Santa Clara, San Mateo & Alameda