Generator Installation Services in San Jose, CA
Your Go-To Generator Installation Company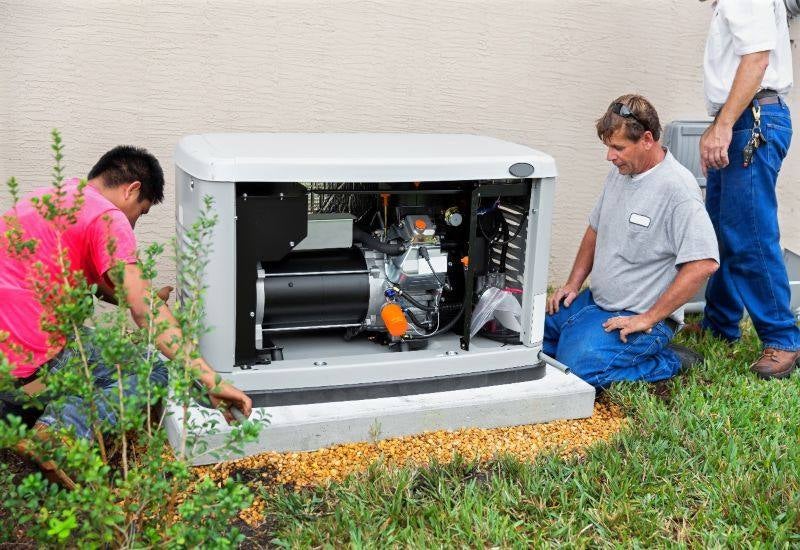 Dalcon Electric provides generator installation services to residents throughout the San Jose, CA area. When your power goes out, your family or business can be prepared with a backup generator that comes online automatically. Small generators can be designed to power only key appliances like refrigerators, freezers, and lights. Large generators can power an entire house or business. We make installing your generator simple. We build the pad (if needed), purchase the generator on your behalf, and complete the installation. By taking the step of calling us now, your family or business can be spared days or weeks of disruption due to lack of power.
What is the Generator Installation Process?
The first step of the generator installation process is determining a suitable location for the unit. The location must be stable and not prone to flooding. Additionally, there must be ample room for multiple technicians to work on the unit if needed. It is important for homeowners living in a neighborhood with a homeowner's association to check on the policies. Ideally, the generator will be installed near the natural gas or propane line. This will allow for easy installation and cost savings. Once the location for the generator is determined, the area will have either pea gravel or a concrete slab installed so that the unit can be placed on top of it. We will connect everything – the fuel line, transfer switch, and generator – to the main house electrical. Finally,
we will ensure the wiring is correct and that self-tests are performed weekly.
The Benefits of Generator Installation Services
Professional generator installation services provide home and business owners alike with many benefits. One of the most significant benefits of a home generator is that it can power your home during a natural disaster or severe storm. Home generator installation ensures the lights stay on, as well as the internet and other electrical necessities. The benefits of generator installation services include:
Maintaining your property's level of comfortability
Ensuring your property's processes can continue
Helping your food in your fridge or freezer remain cool
Keeping your lights running during a severe storm
Providing peace of mind when the power goes out
Why Choose Dalcon Electric?
If you're looking for professional generator installation services, you've come to the right place. We've been managing the area's electrical needs for decades, and we boast a highly-experienced team of knowledgeable electricians. You can expect safe and trusted services and complete customer satisfaction when you choose us for generator installation. Everyone at Dalcon Electric is licensed, bonded, and insured. We also offer free home safety inspections, coupons and discounts, and 24/7 emergency service for your convenience. Choose Dalcon Electric for generator installation services.
Contact Us Today for Generator installations
Enjoy peace of mind that your home is in safe, capable, professional hands when you choose Dalcon Electric for home generator installations. For years, we've served the electrical needs of San Jose, CA residents, both home and business owners. Contact us today to schedule a consultation.
Our Service Area