Ceiling Fan Services in San Jose, CA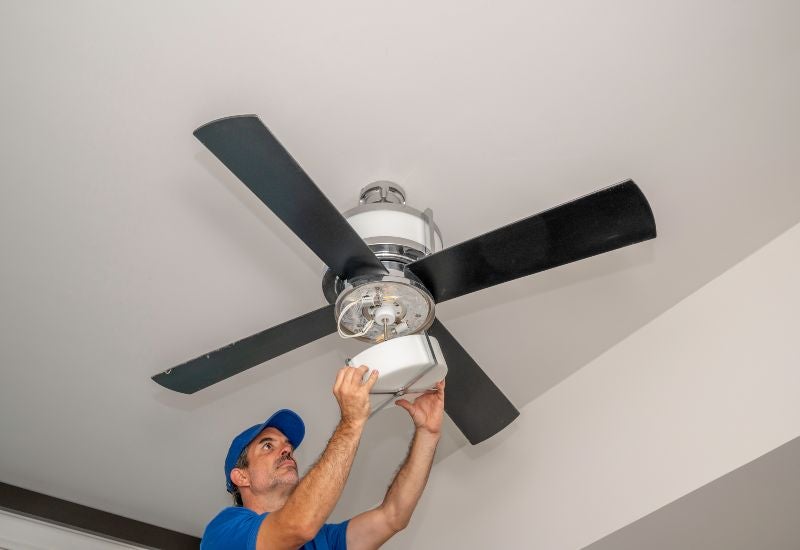 Careful and Safe Ceiling Fan Installation
Dalcon Electric provides ceiling fan services. Contact us to learn more about ceiling fan installation.
What Are Ceiling Fan Services?
Adding a fan to your rooms and patio can significantly and positively impact your home's efficiency and comfort level. A strategically placed fan regulates temperature and prevents your home from becoming too hot or cold. Fans aid your HVAC systems and help them reduce their labor and costs. With a ceiling fan, your heating systems will work less hard during the cooler months, and you'll optimize your A/C and cooling systems during the hot summers. A fan helps you save money on your monthly energy bill and protects you from needing repairs or replacements for overworked HVAC systems.
However, attempting to install a ceiling fan without the proper training or experience poses a significant threat to your home. Improper wiring, anchoring, and failing to meet codes leave your home vulnerable to damage and endanger you and your family. We recommend hiring trained professionals to properly install and maintain your ceiling fan to protect your home.
Our team has the training, skills and equipment needed to provide you with the following services:
Ceiling fan installations and upgrades.
Lighting fixture updates and maintenance.
Additional wiring and wire handling.
Replacement of fan receptacles.
Chandelier installation and upgrades.
What Are Modern Ceiling Fan Installation Benefits?
You might be tempted to perform your fan installation yourself, but you may face many risks and disadvantages if untrained or inexperienced. If you consider the cons of DIY installation, we believe your choice will be obvious: hiring professionals to get the job done right.
Here's why you should ask the experts to install and complete your ceiling fan installation:
Cost-Effective: Many homeowners make the mistake of attempting ceiling fan installation themselves under the impression that doing so will save them money. However, DIY installation will cost more in the long run. First, you'll need to pay for the tools and equipment necessary to install. Second, amateur installers are prone to making costly errors that run up their budget before their installation is complete. Our team has the tools and skills to perform a successful installation that saves you money.
Safe and Secure: Cost is an important issue when performing an installation, but safety and security should be top priorities for any service. Untrained or amateur work produces dangerous installations. Loose or improperly applied wiring can cause electrical issues and spark fires, while unsecured fan units risk becoming unhinged and falling. Maintain the safety of your home and family by choosing professionals to get the job done. Our trained team will follow strict safety protocols from start to finish.
On-Schedule Services: By choosing us for your installation, you'll feel at ease knowing that our dependable team will complete your project at your request and timeline. Attempting installation yourself will cause delays in completion time as your other responsibilities and obligations make demands of you. Our team assesses your home and develops a timeline based on services we've provided like yours. After making a project schedule, we promise to complete your installation at the precise date decided during development.
Peace of Mind: If you're considering installing your fan on your own, we encourage you to consider the costs versus the benefits. Our team is trained, licensed and certified to perform and complete an exceptional installation. We undergo continuous professional development and skill enhancement to improve our services. Our seasoned experience within the industry will inspire your confidence and put you at ease.
What's the Best Ceiling Fan for Me?
Do you think installing a ceiling fan is the right option for you? If so, we'd like to help you choose the right fan based on a few factors you should consider.
Here's what we recommend thinking about before selecting your ceiling fan:
Location: Do you want to install your fan indoors or outside? Do you want your fan in a room or on your patio? Choosing a strategic location is essential to maximizing your fan and airflow. You should consider a safe place free from water damage and electrical issues to protect your fan.
Size: If you have an ideal location for your fan, measure the location's square footage to ensure your fan will fit. We recommend choosing a fan that suits the area. You don't want a fan that's too big or too small for your desired location.
Features: Considering your preferred fan's features such as their style of blade, control systems and lighting is critical to your selection. Blade styles differ between modern residential, rustic and industrial ceiling fans, consisting of various shapes and sizes. Fans may be equipped with manual or remote operating systems that could affect your decision-making.
Why Choose Us
Most of our clients are repeat customers who can attest to our quality, and they come back for every follow-up service.  Dalcon Electric's licensed, bonded and insured team provides a free inspection for every job, ensuring problems are detected before we start. Our customer price approval allows you to solidify your quote before starting our work. We're on call 24/7 in case you need an emergency service. Feel free to Contact us Today.
Schedule an Appointment Today!


Our Service Area