Certified Copalum Aluminum Wiring Repair in San Jose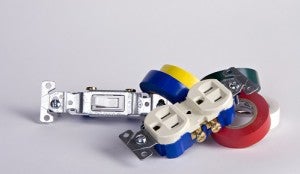 According to the Consumer Product Safety Commission (CPSC), fires and even deaths have resulted from hazardous aluminum wiring installed in homes between 1965 and the mid-1970s. CPSC research shows that "homes wired with aluminum wire manufactured before 1972 are 55 times more likely to have one or more connections reach 'Fire Hazard Conditions' than are homes wired with copper."
The CPSC recommends only two solutions to resolve this aluminum safety issue. One solution is to replace all of your house wiring with copper. This can be difficult and prohibitively expensive. Fortunately, the CPSC recommends a second approach which is considerably more affordable – installation of COPALUM connectors.
Installing COPALUM connectors involves "cold-welding" short lengths of copper wire to the aluminum wires by using specialized high-pressure tools to create a permanent bond.
The installation of COPALUM connectors can only be done by electricians certified in this type of repair. Our company is certified in the COPALUM repair method and can offer this service to you.
If you think your home may have been wired with unsafe aluminum wires you can call us any time for a home wiring evaluation. Should our electrician determine that your home has aluminum wiring, he will be able to advise you as to the condition of your home wiring and about making the necessary safety repairs.
Dalcon Electric is a Certified Copalum Contractor
With that you get the following:
Every junction box is treated with the COPALUM crimping process-every accessible outlet, switch and light fixture box.
Electric Service Panels are treated by tightening all connections and treating with antioxidant.
Every device is replaced with a current up-to-code device in your choice of color (toggle switches/outlets are standard).
Decora switches and outlets are available as an upgrade for a small extra fee.
New GFCI outlets are installed wherever code requires (kitchen, bathrooms, garage, porch/deck, landscape).
New owner-supplied fixtures are hung, if desired, in place of re-hanging current/outdated fixtures (complicated assembly requires a fee).
Our Service Area